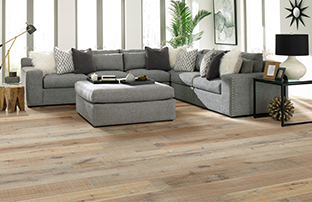 TYPES OF REAL WOOD FLOORING
Solid wood flooring is made of one piece of wood from top to bottom and can be used in any room that is on or above ground. One of the many benefits of solid wood flooring is it can be sanded and refinished many times.
Engineered wood floors are also made of real wood, but include multiple layers, with the top layer made of high-quality wood. Because engineered wood floors expand and contract less than solid wood flooring, they are ideal for basement installations. While this type of flooring can be sanded and refinished, it cannot be done as many times as solid wood flooring.
Composite engineered wood flooring contains real wood on the wearable surface only. The backing and core material may be made up of any type of composite material.
Wood floors are manufactured in almost any width. Some of the most popular styles are strip, plank, and parquet. Each style is available in a variety of species, colors, and widths, so choosing the right one is a matter of preference. Strip flooring is less than 3" wide and often makes a room appear larger. Plank flooring is equal to or greater than 3" wide and often creates a more casual look. Parquet flooring varies in size and generates a geometric, non-linear look.
Wood flooring is made from hardwoods, softwoods, domestic lumber, and a variety of imported lumber. Each wood species has unique visual characteristics and maintenance needs. Visit our species gallery to learn more.
Many factors impact the appearance of wood flooring, including its grade and saw cut. Wood grades are determined based on the physical characteristics of the wood. All grades are equally strong and serviceable, but each looks different. Additionally, the angle at which a board is cut determines how the finished product looks and performs as well.